What are the proper steps to treating frozen shoulder? There are 2
1.Get Diagnosed
2. Use a Comprehensive Frozen Shoulder Program
You want to find a program that includes: Strengthening, Stretching, Range of Motion work, and Soft Tissue work to eliminate adhesions and knots which are restricting your movement.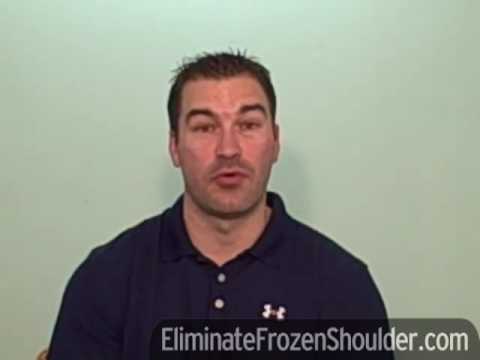 A solid frozen shoulder treatment plan will not only get rid of your frozen shoulder but keep it from coming back. Frozen shoulder does come back. I just had an email exchange with a new client and it was the 3 time that she had frozen shoulder (in the same shoulder everytime).
When I started asking her questions about the program that she had used prior to becoming one of my clients I discovered that she had never done any soft tissue work for her shoulder and had only done a little bit of strengthening. Her program mostly consisted of stretching. If you're a regular reader of my blog then you know that stretching is not enough to get rid of frozen shoulder.
Most people don't know a lot about the soft tissue part of treatment. Go here to see my 90 seconds to frozen shoulder pain relief where I show you exactly how to put soft tissue work to work for you.